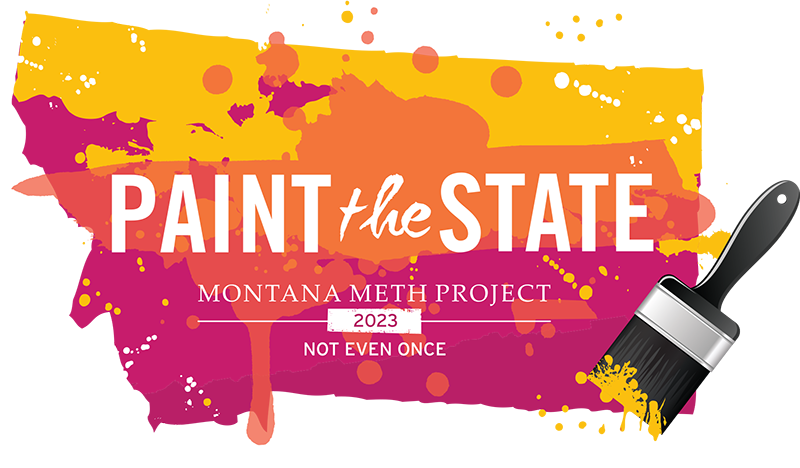 Congratulations to the Paint the State Winners!
Teen Division – Statewide Top 3 Winners
Adult Division – Statewide Top 3 Winners
View all the statewide and regional Paint the State winning entries!
View Winners
---
"What struck me in viewing the Paint the State artwork was the feeling of hope. When we have hope, we can find the escape out of a tough situation. It's my personal hope that people are inspired by these amazing works of art and that all Montanans find their passion to live high on life, not on drugs."
— Commander John Herringon, the first Native American astronaut
in space who served as a Paint the State 2023 judge
---
Read more about the Paint the State panel of distinguished judges.
About Paint the State
Paint the State is a program of the Montana Meth Project. The statewide public art contest engages Montana teens and adults in on-the-ground drug prevention. The contest harnesses the passion and creativity of participants to produce monument-sized public works of art that inspire drug-free lives and incorporate the Meth Project's "Not Even Once" message. This summer, more than $100,000 will be awarded to winning participants including three $10,000 grand prizes! One entry could win up to $20,000.
Paint the State Timeline
---
REGISTRATION PERIOD:
January 2023 – June 23, 2023
---
ART INSTALLATION DEADLINE & ONLINE PHOTO SUBMISSION:
June 30, 2023
---
POPULAR VOTING:
July 17 - August 17, 2023
---
REGIONAL & STATEWIDE JUDGING:
July 2023
---
AWARD ANNOUNCEMENTS OF REGIONAL & STATEWIDE WINNERS:
August 2023
---
About the Montana Meth Project
The Montana Meth Project was founded in 2005 with the mission to reduce first-time teen Meth use. Through public service messaging and community outreach programs, the Meth Project arms Montanans with the facts about Meth. The nonprofit remains the only organization in the state solely charged with reducing Meth use.
Thanks to Our Partners