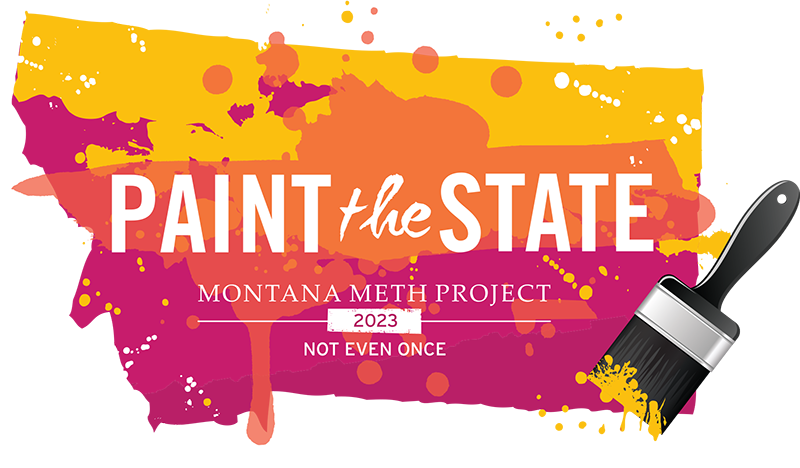 Win up to $20,000 in cash!
Register for the state's largest art contest and inspire drug-free lives!
About Paint the State
Paint the State is a program of the Montana Meth Project. The statewide public art contest engages Montana teens and adults in on-the-ground drug prevention. This summer, more than $100,000 will be awarded to winning participants including three $10,000 grand prizes! One entry could win up to $20,000.
To compete, harness your passion and creativity to produce a monument-sized original public work of art that inspires drug-free lives and incorporates the Meth Project's "Not Even Once" message.
How it works:
Everyone 13 years of age and older is eligible to register, create and permanently install a Paint the State entry in Montana.

Participants can compete as an individual or group. The program is ideal for individual artists as well as student and youth groups, service organizations, and treatment and recovery groups as an impactful community outreach project.

The Meth Project can help brainstorm artwork ideas and assist in finding a public installation location. Contact us.
Teens and adults create and install their public artwork competing in regional and statewide divisions. Follow these Tips and Rules. (Participants under 18 must submit the Parental Consent Form.)

A panel of judges will select the winners, and the public will vote for the "People's Choice" award.

Top regional and statewide winners will receive cash prizes including three $10,000 grand prizes for the Top Montana Teen, Top Montana Adult, and People's Choice. One entry could win up to $20,000!
Paint the State Timeline
---
REGISTRATION PERIOD:
January 2023 – May 31, 2023
---
ART INSTALLATION DEADLINE & ONLINE PHOTO SUBMISSION:
June 30, 2023
---
CELEBRITY JUDGING & POPULAR VOTING:
July 2023
---
AWARD ANNOUNCEMENTS OF REGIONAL & STATEWIDE WINNERS:
August 2023
---
About the Montana Meth Project
The Montana Meth Project was founded in 2005 with the mission to reduce first-time teen Meth use. Through public service messaging and community outreach programs, the Meth Project arms Montanans with the facts about Meth. The nonprofit remains the only organization in the state solely charged with reducing Meth use.
Thanks to Our Partners